Cellercise the 15min Youth Restoration Secret
I like many others have a time management issue where exercise is concerned. This Cellercise routine on the Cellerciser R is absolutely perfect for ultra busy types like me. I have it at home in one small corner and bounce on it when passing by. I do it when I need a break from the computer for as many minutes I feel I can spare. It loosens any tension build-up, improves my flexibility and keeps my body beautifully toned without spending hours at the gym. Have fun and keep fit. The best health investment you will ever make that lasts for the rest of your life.
ONLY $350 US plus postage and handling
Many mini trampolines use weak steel springs, or bungee cords causing sinking and pronation of feet and knees. That can cause back problems. Using such rebounders in combination with home workouts, could cause serious injury. That's where the Cellerciser® home exercise trampoline comes into play. Take your fat burning workouts and strengthening exercises to a new level with the innovative Cellerciser that is designed with triple-tiered™ carbon steel annondized springs and all-steel construction to ensure a safe, durable exercise rebounder.
Cellercise! Mini-Trampoline Rebounder Program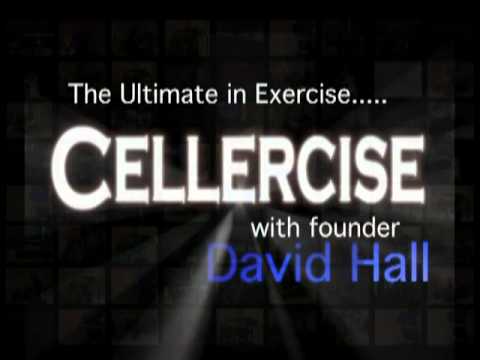 Video on the benefits of Cellercise, by Ryan Phelps.
Rebounding is the most effective weight loss exercise on the planet!
David Hall is the perfect testimonial for the tremendous
Testimonials
Power walking just wasn't the answer…..
Dave, just wanted to tell you, personally, how you and the cellerciser have changed my fitness life. I was a distance runner and road racer for over 15 years, but have been unable to run for several years now due to the damage I did to my knees with all those hills and miles on hard surfaces. I had been looking for something to get excited about for staying fit for years. Power walking just wasn't the answer, and alot of the fitness equipment in gyms (bikes, ellipticals, etc.) are too repititious and boring. I discovered cellercising over 6 years ago; it is free-form and fun, and a terriffic workout.It was the joyful fitness answer I had been looking for! God bless you and your fitness mission!
Cellercise is … a revolution in the best method of exercise. All cells become simultaneously activated by jumping in a fluid motion. Cellercising brings about an entirely new form of movement on David's much improved Cellerciser mini-trampoline….
My recommendation: If you want to live longer with the highest level of wellness, learn first hand Dave Hall's Cellercise Program. It offers prodigious benefits for the lymphatic system, the heart, blood vessels, nerves, brain and all other cells of the body."
Dr. Morton Walker, D.P.M.
Medical Journalist and author, Jump for Health
"For the past 10 years, we have used the Cellerciser in our clinics to help our patients get excellent aerobic exercise while protecting the joints of the body from harm."
Dr. Brian Burns M.D.
"Since I have been using the Cellerciser, my abdominal muscles are stronger than any other time in my life. What's really amazing is that I have not even targeted my abs. I just bounce."